This week not a lot of progress on the Dev Pipe project was made, but I did make a different game! Last weekend, April 11th – 13th was the Spring St. Louis Game Jam at Webster University and I participated as part of an extremely talented team of 4. We created a platformer called Metempsychosis.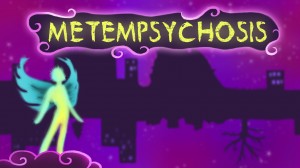 Download it at http://www.stlgamejam.com/game_jam_game/metempsychosis/ to play it now or continue reading to find out more about it.
The themes for this Game Jam were created using a Random game design generator. You can try it out at this link: http://orteil.dashnet.org/gamegen. Our team had a pretty difficult time with this challenge. The theme we got was "An adventure game where you go to war with manbeasts while balancing your karma." We spent a very long time deliberating on what this game could be. We went back and forth between making a point and click adventure game where you play as a female in the modern day dating scene or a story-heavy game in a fantasy universe. As the team kind of felt out what these ideas would become, over time it became apparent we would never come up with something we could agree on.
Eventually someone mentioned, "what about something like Limbo?" and we changed our focus to more of a platformer. Suddenly things clicked for everyone and we quickly threw together a high level design that involved playing through levels that end in a moral decision that gives you different powers that evolve over the course of the game based on your choices. And with that decision made we quickly got to work.
The game made slow progress over the first day, but suddenly came together on Saturday, allowing us Sunday to polish it up and try to fit in the missing pieces of the vision. We all walked away feeling incredibly proud of what we'd accomplished, and the rest of the team has continued working on it after the jam. Keep an eye on the download site above because I have a feeling what you download today will be just a shadow of what's there in a few weeks.
That said, this is supposed to be a development blog for Project Punchvania. As I mentioned before, with the Game Jam smack dab in the middle of my work week I didn't accomplish much, but I was able to build something that imports maps from Tiled (http://www.mapeditor.org/) so that level design can be done easily and can be quickly iterated on over time. Having good tools will be critical to our development process as we're hoping to quickly iterate on all aspects of the game until it's at a point where we can release something we're proud of. I'll talk more about level creation in next week's entry. See you then!